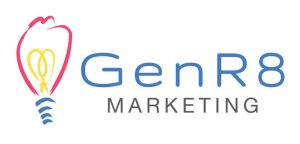 GenR8 Marketing (genr8marketing.com), a comprehensive and self-described boutique marketing firm located in Lincoln, is marking their 9th anniversary in business. GenR8 focuses on servicing small- to medium-sized businesses on a local and national level. Core services include websites, social media, email marketing, video, and online advertising.
"We're excited to be doing business in the Lincoln area and in our ninth year! The crazy world of Digital Marketing is always changing, but it keeps us on our toes, and we continue to enjoy the challenge," said CEO and co-owner, Jason Petersen.
Like their tag line states, GenR8 has evolved in the last five years with not only a branding change but also by offering several new services in the digital marketing sector, including Google AdWords, consumable video production, and podcast services. The GenR8 staff has also grown from three individuals to eight over the last six years, with a few new staff roles yet to be filled.
"Our team has played an integral role in our growth and how we support each of our clients," said Holly Petersen, VP and co-owner.
GenR8 Marketing is a comprehensive digital marketing consulting agency. GenR8 is a proud family-owned agency that uses a one-on-one client approach to every project and account, big or small. For more information about GenR8 Marketing and its services, you can contact Jason Petersen at (402) 817-1224 or via email at jason@genr8marketing.com. You can read this article on Strictly Business at https://strictly-business.com/news/business/genr8-marketing-celebrates-9-years/