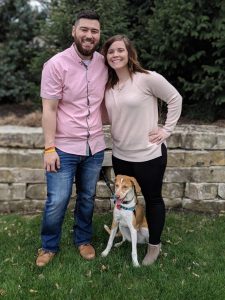 Give a BIG welcome to Van! Van joined our team recently as our Content Manager. You can get-to-know him a bit more, below…
What brings you to GenR8 Marketing?
I am a recent graduate of UNO and I am starting my career in marketing. GenR8 is giving me the opportunity to learn and develop my skills in marketing.
What do you love about your job?
I am excited about having the opportunity to create and curate content for our client's social media platforms.
What do you like to do outside of work?
On my downtime, I like to spend time with friends. I am an avid gamer who loves to play competitive video games. I also love getting to sit down and watch new movies.


Fun fact about yourself?
I have been to Vietnam five times. My family has had the opportunity to visit my father's side of the family over there. I love getting to travel abroad and experiencing new cultures.


What's your role at GenR8?
I am a content curator/creation manager.


What's your favorite place to eat?
I am new to the area, but I am a huge fan of wings. The Watering Hole and Buffalo Wings and Rings are at the top of my list for favorite places to eat in Lincoln.
If you could travel anywhere, where would you go?
It would have to be Turks and Caicos or somewhere sunny with a beach! I have had the opportunity to travel since I was five and I have grown to love everything that goes with it.
Do you have any pets?
I have one dog! She is a 10-month-old Beagle Coonhound mix and her name is Luna.
Tell us about your home life.
Outside of work I love getting to take my dog to a park or on a walk and just being outside. If my wife and I are not outdoors with our dog, we are usually cozied up on the couch watching a movie or hanging out with the family!
What is one fact about you that most people don't know?
I am a huge superhero movie fan! I have seen all the Marvel movies while they were in theaters, and I would have to say my favorite movie is Thor Ragnarok.