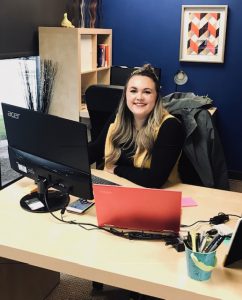 Our team is continuing to grow and we're excited to welcome our newest member Deidre Stevens! Below you'll find more info about her.
Deidre Stevens is our Strategy, Media, and Traffic Team member. She helps with client's accounts, their social media profiles, and overall marketing strategy.
Deidre is getting quite excited about this next phase of her life because she is entering her senior semester at Nebraska Wesleyan University. She will graduate in December with a Communication Studies degree with a minor in marketing.
When she's not busy keeping up with shows like The Bachelor or listening to Broadway hits, she enjoys trying new food and wine with her boyfriend, Kevin. Life is also always interesting as a dog mom to her sweet lab retriever, Lilly.
When it comes to traveling Deidre is ready to travel just about anywhere! She really wants to explore the east coast and dive into not only the historical sites but also the great food that comes along with it. She's also looking forward to the day she can go to Napa Valley because some of her favorite wines are from there.
A fun fact that you may not know about Deidre is that though she's only 22, Barry Manilow is one of her favorite singers! She can't wait to get down to the Copacabana!